Additional Information
Story

We're always chasing an elusive dream of every day, anywhere, forever garments. When it comes to shirts the button down oxford is well up on the list, but could we make one even better?

Could we make a cleaner oxford so that sweat no longer showed through? Could it handle chance encounters with grit and coffee without getting dirty? Cotton shirts are the softest right before they fall apart, could we make an oxford that was both stronger and softer at the same time? Could we make a UV resistant and breathable oxford to protect us in comfort? Yes, yes, yes and yes. We just needed to engineer the right fabric. The Air Forged Oxford from Outlier.

Like many Outlier projects, the genesis was in the materials. The secret of an oxford cloth is not in the weave per se, but in the thickness of the yarns. It's a simple canvas weave but one where the fill yarns are significantly thicker than the warp yarns. The result is a more dimensional fabric, one that reduces surface contact and breathes better.

A great weave is only as good as the fibers in it though, and oxford cloth is traditionally cotton. Cotton of course has some good qualities, but in the end as they teach you in camp: "cotton kills". Its weakness is moisture, it absorbs too much, it wrinkles, it shows sweat, it stains easily and it breeds odor. While high grade cotton is somewhat durable, it eventually fades and falls apart.

Rather than using cotton, we decided to build an oxford around air texturized supplex fibers designed to combine the advantages of nylon with the beautiful handfeel of cotton. The fibers are extruded at extremely low deniers and then hit with a jet of air that permanently crinks them, giving an incredible softness and resiliency while staying far stronger than staple fibers like cotton. They are then twisted into yarns of varying thickness which are used to weave the cloth. After a few false starts we settled on a weave of two 100D fibers by one 250D and then had the fabric blazed with a Nano-Tex® treatment to finish it off.

The result is a clean, durable and breathable cloth that is a joy to wear and looks good too. Sewn in New York City, using our patent pending pivot sleeve pattern. Button down collar, custom Italian Mombasa poly buttons and one front "secret catch" pocket. What more could you want in a shirt?

Fabric


The secret of an oxford cloth is not in the weave per se, but in the thickness of the yarns. It's a simple canvas weave but one where the fill (weft) yarns are significantly thicker than the warp yarns. The result is a more dimensional fabric, one that reduces surface contact and breathes better.

Rather than use cotton, we built this oxford around custom developed air texturized supplex fibers which were designed to combine the advantages of nylon with the beautiful handfeel of cotton. The fibers are extruded at extremely low deniers and then hit with a jet of air that permanently crinks them, giving an incredible softness and resiliency while staying far stronger than staple fibers like cotton. They are then twisted into yarns of varying thickness which are used to weave the cloth. We settled on a weave of two 100D fibers by one 250D and then had the fabric blazed with a Nano-Tex® treatment to finish it off.

The result is a clean, durable and breathable cloth that is a joy to wear and looks good too.

Details

Air Forged Oxford Cloth Pivot Sleeve Shirt aka the Air Forged Oxford

Patent Pending Pivot Sleeve construction for freedom of movement

Button down collar

Catch front pocket

Custom Italian Mombasa poly buttons

Air Forged Oxford Cloth made in Taiwan

120gsm

Air texturized 100% supplex nylon 6,6

Stronger than cotton

Naturally soft handfeel

UPF 50+ for sun protection

Quick drying

Nano-Tex® treated for a cleaner wear

Fits true to size with a tailored medium cut

Machine wash cold, hang dry or tumble dry low for a few minutes. (it dries quick, don't waste energy!) Low iron if needed

Made in New York City

Sizing


Please refer to the table below for exact garment measurements.



Garment measurements in inches, measured flat

Size
XS
S
S-Long
M
M-Long
L
L-Long
XL
XXL
Shoulder
16.5
17.25
17.25
17.75
17.75
18.25
18.25
18.5
19.25
Length

high shoulder to bottom

27.75
28.5
30.5
29
31
29.5
31.5
30.25
31
Sleeve length

Center Back to Sleeve Opening

33.25
33.75
35.75
34.25
36.25
34.75
36.75
35.25
35.75

Body measurements in inches

| Size | XS | S | S-Long | M | M-Long | L | L-Long | XL | XXL |
| --- | --- | --- | --- | --- | --- | --- | --- | --- | --- |
| Neck | 14.5 | 15 | 15 | 15.5 | 15.5 | 16 | 16 | 16.5 | 17 |
| Chest | 34 | 36 | 36 | 38 | 38 | 40 | 40 | 42 | 44 |

Colors

Earthshadow

Storm Gray

Lightning Gray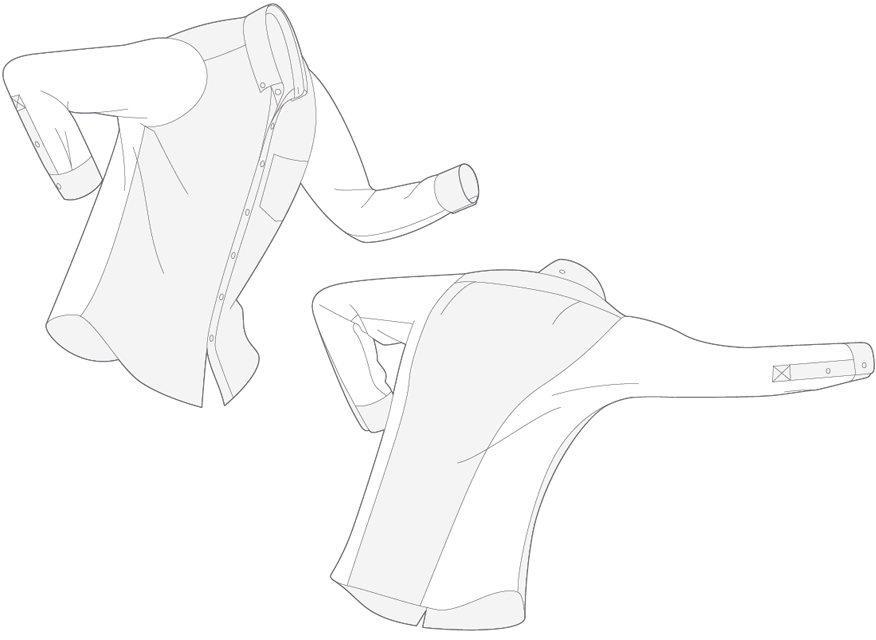 OUTLIER
PIVOT SLEEVE
US 20120102618 A1 Patent Pending
Sometimes you don't know what's restricting you until you are set free. The Patent Pending Pivot Sleeve was born trying to solve what we thought was an isolated problem, but the solution turned out to have far wider uses. It's quite simply a button up shirt designed to give you a wider range of motion, and in the process it also manages to both fit and stay in place better as well.
It started out rather innocently, we wanted to create a dress shirt using traditional non-stretch shirting fabrics that didn't bind at the shoulders and across the back when we leaned forward on our bikes. We studied everything we could get our hands on, various tailored shirts, mountain climbing jackets and even the gear that George Mallory used in his fatal yet stylish attempt to summit Mount Everest in the 1920's. Ironically we probably learned the most from a couple overpriced high fashion shirts we bought on clearance in the depth of the financial crisis of 2008.

A year later, when the smoke had cleared and the experimentation was done, we found we had created something that was genuinely new (at least to the extent of our knowledge and research), the Outlier Patent Pending Pivot Sleeve.
A one piece sleeve that flows seamlessly into the back of the garment, creating a rear side panel in the process. The pattern piece for the sleeve becomes L-shaped. At the critical pivot point at the shoulder the fabric lies on the bias, naturally stretching exactly where it is most useful. Removing the rear arm seam prevents the shirt from both binding across the back and pulling untucked when you move your arms, so you both look sharper and are more comfortable. Finally the rear side panels allow for a much more refined shaping of the shirt than traditional constructions. A dress shirt designed to look better, fit better and allow you to move without restriction.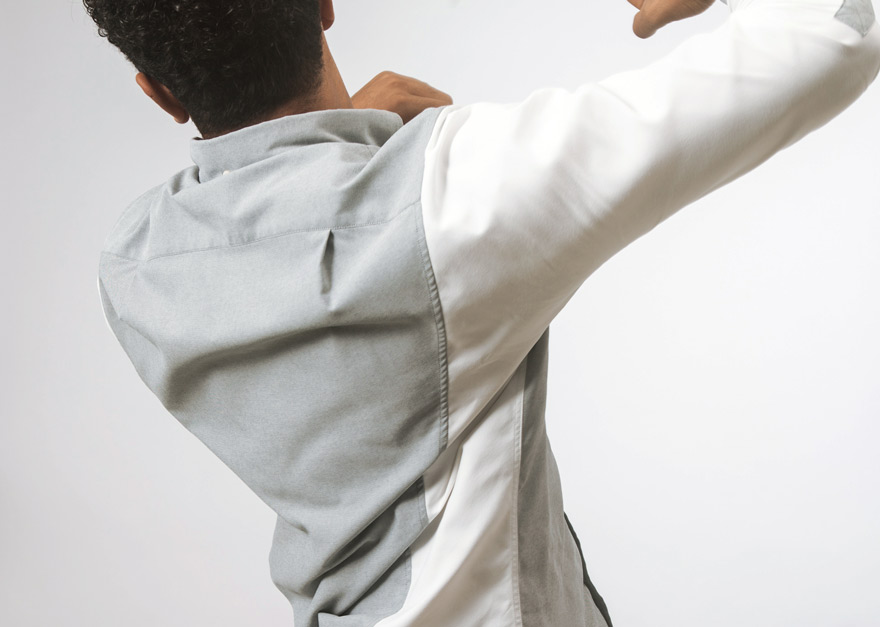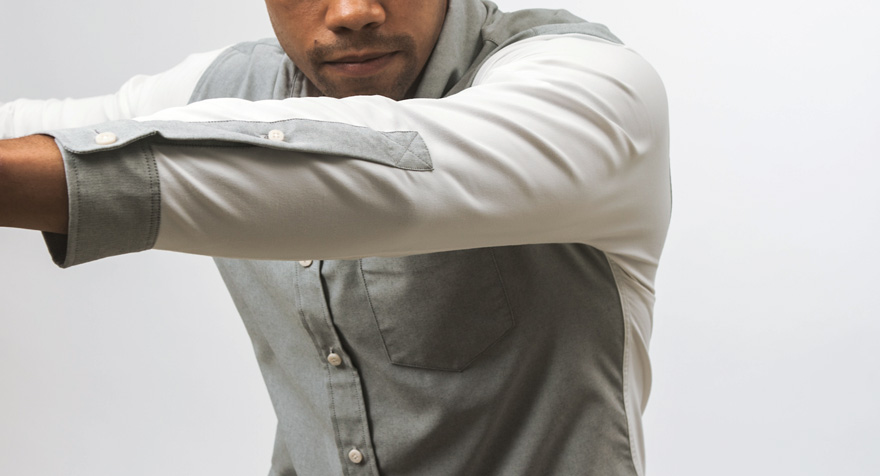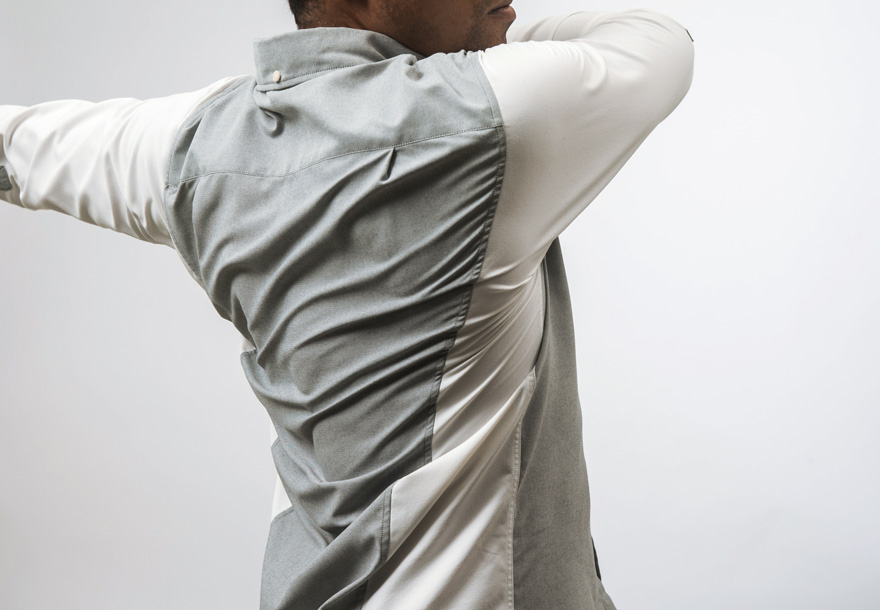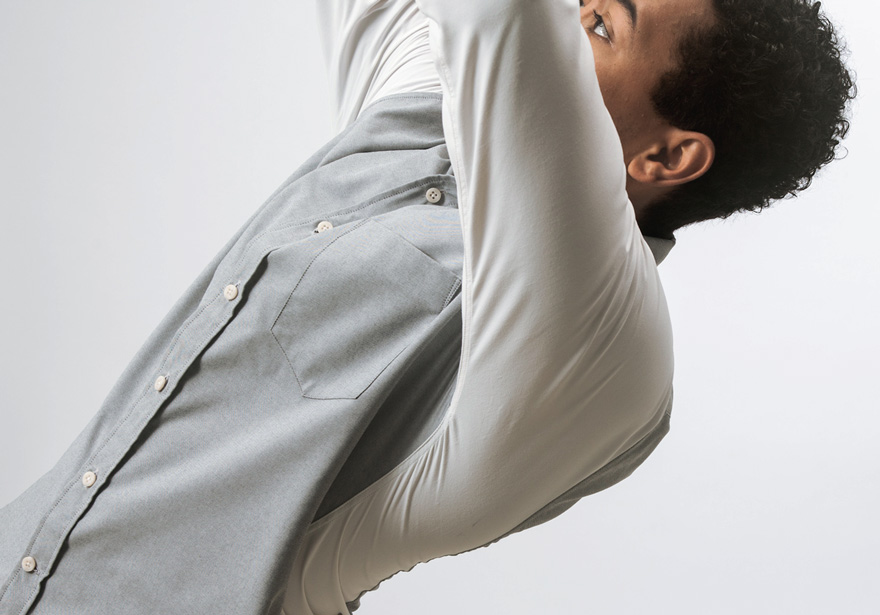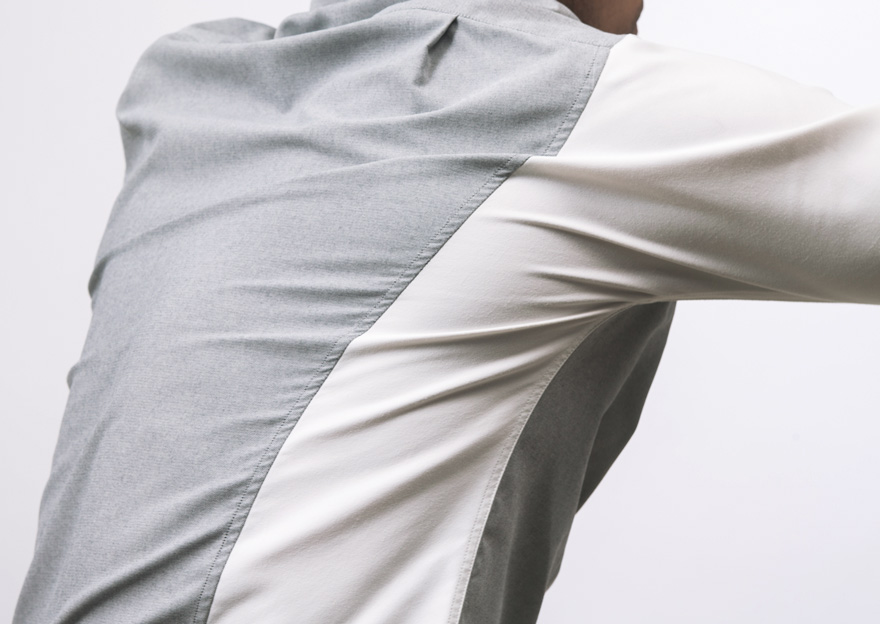 ↑
Imagery: Emiliano Granado
Art Direction: James John Michael Dunphy Jr.
Garments featured: Patent Pending Air Forged Prototype (NFS)